Top Secret
C.O.G. Protocol
You have been chosen to participate in the last line of defense against total annihilation of our values as a people: Continuity of Governance.
Should you never have to operate in this capacity would be ideal, a continuation of the importance of defense and diplomacy in the age of nuclear destruction. If you must however, you are the shoulders upon which rests all of humanity rebuilding in an age anew. The United States confers upon you the full authority of control at all levels of governance in this instance. If you are activated, you are expected to work with others in a similar capacity to make the decisions that must be made under duress. Countless lives will be at stake, but you have been selected precisely because you are the right individual to do so.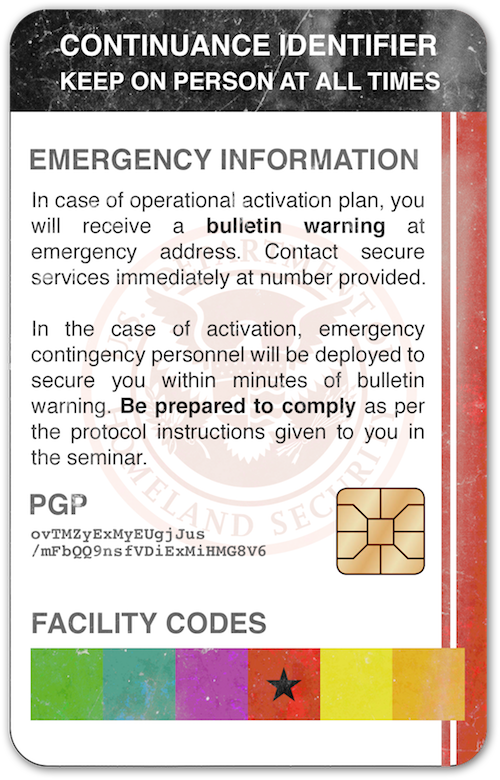 The following is practical "out-of-game" information describing a typical run of A CoG in the Machine.
Synopsis
A CoG in the Machine is a larp about the 'Continuance of Government' process and what happens in the event of a cataclysmic event, set 'today'. The event focuses on the COG (Continuance of Government) scenario in the event of a nuclear attack, and participants portray characters that are part of the secretive COG group that will assume control of the United States. These characters are fully fleshed out with motivations and a background that gives a participant enough to engage with the story. The event is designed for up to 20 participants taking place over the course of around 4-5 hours. The event includes workshops before and after to facilitate safety and calibration techniques and to de-escalate after, as well as learn how to play with other participants.
Event Description
A CoG in the Machine is an immersive theater event in the style of a 'Nordic larp' in which participants portray characters that are drafted up in the event of full-scale nuclear war and brought into a 'war room' to discuss contingency plans and operations for next steps. Gathered into the room, events play out in a psychodrama where participants can only take actions through remote connection, receiving reports and issuing orders to shadow personnel in hardened and armored bunkers throughout the US. The participants must make the crucial decisions that guide those forces towards the future and what comes after the war. During the sign-up portion of the event, a pre-event survey is sent out that will ask some questions about what kind of experience participants are looking to have. The story team at Reverie Studios will then either write or pair participants to characters that will contain a few basic things:
A name
A list of descriptive traits to paint a picture of the personality of the character
A paragraph summary of the character
After this process, if the character that has been provided is acceptable, the story team will continue to write the character or calibrate for a participant's play experience. The full character will have the following:
A full background and history
A list of questions for participants to ask themselves about the character to build it further in their mind
A list of suggestions for play experience
A list of relationships to other characters to give easy hooks for interaction
Before a game, participants are encouraged to think about their desired play experience and to further tweak as needed so that when they arrive, they are ready for the event.
At the event, an introduction and a series of workshops will be conducted. These workshops are intended to orient the participants and give them a chance to know the other participants and game staff, as well as learn how to engage in meaningful, safe and fun play with one another.
Content & Themes
A Cog in the Machine keywords: decision making, collaboration, survival, apocalypse.
Content Warnings: Mass casualty trauma, loss of family and friends, claustrophobic environment, loud noises, bright lights or augmented light, violence, politics.
The content design of A CoG in the Machine is intended to evoke intense feelings of drama and loss. It has dark themes, but the design team has intentionally not steered towards concepts involving sexuality or extreme violence in any of the character backgrounds. We recommend this larp for players aged 21 or over, and due to the nature of this event and the venue will not allow anyone younger than 21 at this time.
The larp is played in a physical style actions are portrayed in a consensual fashion and intended to look real, but in a safe way for all. There are workshops before the event that will teach consent, safety and calibration.
This is an inclusive event and all genders, sexualities and bodies are invited to participate and enjoy themselves.
Physical contact at a minimum comfort level for participation is for you to be able to hold hands with other participants, or a light touch on the shoulder from the front. The consent, safety and calibration techniques will allow for participants to determine whether they are comfortable with other forms of consented physical contact such as portraying a fight. You are always in full control of your own body and of your own story, and you will always have choice in what your participate in, with the ability to step out of any situation and leave a play area to take a break as needed.
Engagement in this kind of experience can be very emotionally and mentally powerful. Immersion is part of the experience. As you are collaborating with others to create a story, this means that there is no central narrative present, meaning the stories can range in theme and may create discomfort. If the possibility of any of this may make you uncomfortable, you will probably also be uncomfortable at the event. If you choose to participate, please consider that need for self-care both during the event and after.
Access & Ability
As this is an immersion based experience, one's body represents their body in the event itself. Access to bathrooms will be available at all times.
This event significantly uses audio and noises ranging in volume from low to startlingly loud. Please take this into account if you are hard of hearing, or if you would be startled by loud noises.
The event will include altered states of light. Changes in light colors, brightness and types of light will be a feature. At all times, light should at least be present in a way to make out surroundings and event space, but the quality of that light will change. If you have restricted vision or light mobility issues and would like to participate, please let us know in advance and how we can assist you in prepping for this event.