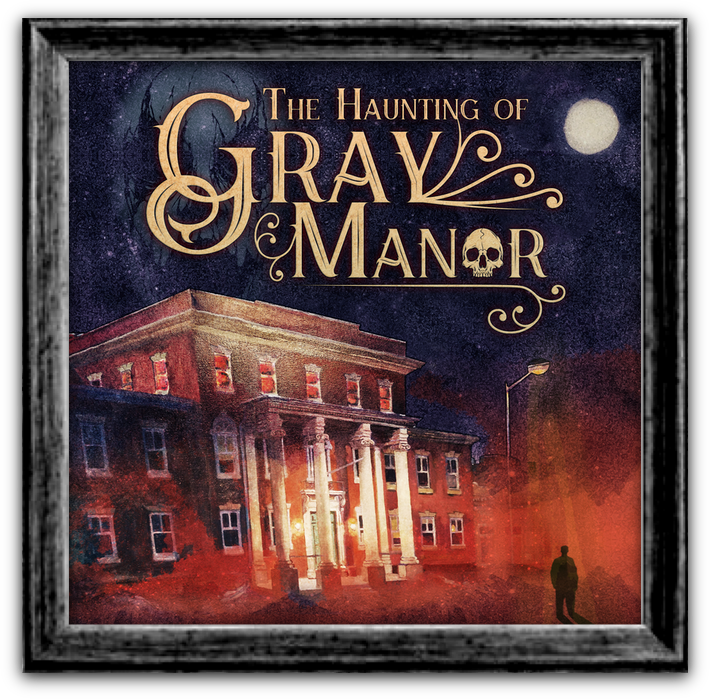 The Haunting
of Gray Manor
October 23–25, 2020
Cambridge, MA
About & Logistics
The Haunting of Gray Manor is a larp that will allow you to explore the world of the dead, and cross over into it! You will portray a guest invited by a renowned psychic who will guide you into a notoriously haunted manor to discover the nature of its possession... and some of you will never leave.
A larp by Reverie Studios
Gray Manor is a larp designed to allow you to explore the nature of the haunting, as well as become part of the haunting and explore the world of the dead. During the event you and other guests will be communicating with the departed while wandering through a historic and atmospheric location which is transformed by immersive effect. All packages include:
A fully catered dinner with fine food.
Snacks, coffee and tea and bar service available during dinner, and some refreshments during the event.
Each character is custom written and tailored to you!
Pre-game workshops for you and your character's groups to immerse you directly into the game.
Pre-event social activities as part of the ticket price which will include options such as tours of Boston, karaoke, Boda Borg or other engaging social offerings that allow you to see the city and enjoy time with your friends and make new ones!
Sunday debrief to help you exit the game in a healthy manner with additional activities!
Base package starts at $350 but we also have upgraded packages! A complete price list can be sent to you once you fill out our survey. We offer payment plans!
We have a limited number of Reduced Rate Scholarship tickets. Give us a few words in the Application on why you'd like to attend Gray Manor, and how a scholarship would make a difference for you to attend, or if you would like to help subsidize the scholarship ticket for others.
The Gray Manor team is working hard to provide a best-in-class experience for our attendees. Our goal is to provide an enjoyable vacation weekend in Boston where you will have a high quality immersive larp experience, and also enjoy social opportunities with other fellow larp enthusiasts. This section contains more information on the event's schedule, the venue at the Cambridge Masonic Temple, and the weekend's overall accommodations.
You can also read up on our Rules of Play, Code of Conduct, and Privacy Policy.
Any questions you have about event logistics not covered here should be addressed to hello@reverie.studio.
Schedule
October 23rd through the 25th, 2020. The larp event starts at 11 AM on Saturday, October 24th and runs all day. The 23rd and 25th are dedicated to social activities and other fun side offerings.
The event schedule is currently under active development. More details will be posted here as Gray Manor draws near.
Venue
The main events of Gray Manor will be held at the Cambridge Masonic Temple. This beautiful and historic location at 1950 Massachusetts Avenue in Porter Square, Cambridge, has served as a vibrant community center since 1910. The Cambridge Masonic Temple is a Georgian Monumental style structure, constructed in 1910 with Craftsman interior appointments typical of the period. To be able to use this historic space for such a unique immersive event is an honor and will amplify the atmosphere of Gray Manor.
Accommodations
The City of Cambridge
We want our attendees to think of this weekend as a unique vacation experience with the Gray Manor larp as its centerpiece. The event schedule leaves ample time to explore the city of Cambridge and Boston and its many attractions. This event's venue at the Cambridge Masonic Temple means it is highly accessible on the Boston Transit network, and it is within view from the front door of the Porter Square subway station.
Hotel
This event does not include lodging in its ticket price. All attendees are responsible for booking their own accommodations, either at the Porter Square Hotel (see below), or any number of other facilities available in the Boston area.
Reverie Studios has secured a group rate with the Porter Square Hotel, next door to the event venue. Please book by phone (617-499-3399), and use the group code "SPOOKY". Available rooms:
Petite Twin Room - a room with two single beds.
$219 + 14.45% tax per room, per night.
Deluxe Twin Room - Also a room with two single beds, just a bit larger!
$239 + 14.45% tax per room, per night.
Deluxe Queen Room - A Deluxe room with one Queen bed.
$249+ 14.45% tax per room, per night.
Queen Suite Room - A room with one Queen bed, and a separate living area.
$259 + 14.45% tax per room, per night.
Transportation
Gray Manor will be held at 1950 Massachusetts Avenue, Cambridge, MA 02140 at the Cambridge Masonic Temple. This location is ideal as it is near to a number of different transportation options, including the Boston subway system. The Porter Square station is a major hub that is located near to the exciting Davis and Harvard Square areas, which have a variety of dining options, refreshments, and social areas.
The Logan International Airport serves Boston's flight based needs, as well as the Manchester NH Airport, and both are close enough to be used for any travel in. If traveling from Logan, Cambridge is easy to get into via taxi, ride hailing services such as Lyft or Uber, and via the subway system.
Cambridge is a very walkable city, and rental bikes are also available!